By: Surely Wallace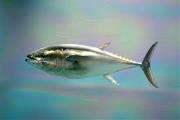 In a March 2018 article published in the Journal of Animal Science, researchers investigated the effects of oxytetracycline on finfish. The goal was to provide quantitative data on antibiotic use on growth performance
on
fish in aquaculture, which is lacking in the literature.
Antibiotics are used therapeutically to treat bacterial
infections,
but were incidentally noted to also promote growth in livestock during the mid-20th century. The use of specific antibiotics for non-therapeutic use in livestock was subsequently FDA approved during this time period. The approval did not
extent
to aquaculture. However, misuse of antibiotics in aquaculture based on livestock studies and data may still potentially occur.
The authors studied
oxytetracycine
, an antibiotic used in the livestock industry, to quantitatively assess fish growth when added to the oral feed. Four species of fish were used: Ictalurus
punctans
(channel catfish), Morone
chrysops
x M.
saxatilis
(hybrid striped bass), Oreochromis
niloticus
(Nile tilapia), and Oncorhynchus mykiss (rainbow trout). Each replicate consisted of four fish with treatment duration of 8 weeks. Treatment groups included control, subtherapeutic and therapeutic dosages.
No significant differences in the growth of fish in control versus treatment groups were reported. There was additionally no difference in survival rates. Parameters quantified included weight gain, feed conversion ratio, and specific growth rate. The authors concluded that use of
oxytetracyline
in fish for purposes of promoting growth was not effective.
The mechanism behind antibiotic growth promotion in terrestrial animals is not well understood although changes in gut microbiota or reduced inflammation are hypothesized to be contributory. The authors note oxytetracycline use in fish appears to promote inflammation through oxidative stress. This study's results
therefore
discourages the non-therapeutic use of antibiotics in aquaculture, which is not FDA approved.
To view the full article, visit the Journal of Animal Science.