Interpretive Summary: Effect of sterilization and of dietary fat and carbohydrate content on food intake, activity level, and blood satiety-related hormones in female dogs
By: Megan LaFollette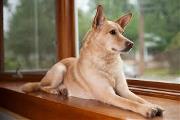 In October 2016, Journal of Animal Science published an article investigating how spaying female dogs and feeding them different diets impacts their food intake, activity, and hormones. Previously, spaying dogs had been reported to increase food intake, which may be related to changes in the effects of feeding-related hormones from an interaction with decreased estradiol. Although little research is available in dogs, appetite and satiety appear to be affected differently by different nutrient groups (carbohydrates versus fats) and hormones such as ghrelin, cholecystokinin (CCK), and total peptide Y (PYY). This study's objective was to evaluate the effect of feeding high-carbohydrate or high-fat diets on food intake and blood concentration of gut-derived hormones in dogs before and after sterilization.
In this study, 12 female beagle dogs were randomized to be either spayed or left intact. These dogs were between 2 to 6 years and matched by bodyweight and age. In phase I, all dogs were intake and in phase II, spayed dogs had been sterilized 20 days before. In each phase, dogs were fed two high fiber diets with the same percentage of protein: one high-carbohydrate and one high-fat. In each phase, measurements included voluntary dry matter intake and activity for 5 days, then a food-intake challenge when energy allowance was restricted to 0.7 of maintenance levels. The food-intake challenge occurred 4 hours after feeding the experimental diets. To determine satiety-related hormones (active ghrelin, CCK, PYY, and insulin), blood was drawn before, and 15, 60, 120, 240, and 360 min after feeding.
The results from this study showed that spaying female dogs did not affect voluntary intake, food-challenge intake, or blood hormones. However, spayed dogs did have lower activity levels than intact female dogs. Dogs fed a high-fat diet had greater digestibility, higher voluntary intake, lower activity, a lower increase of CCK at 120 and 240 min, and a lower PYY elevation at PYY than dogs fed a high-carbohydrate diet. Between diets, there were no differences in food-challenge intake, ghrelin, or insulin levels. However, active ghrelin and insulin did correlate with food-challenge intake.
In conclusion, spaying female dogs did not appear to impair their appetite control, although it did decrease their activity. In terms of diet, this study demonstrated that free-feeding a high-fat diet increased daily energy intake, reduced activity, increased CCK, and increased PYY. However, feeding a high-fat diet did not impact active ghrelin and insulin. This study's results suggests that dogs regulate their food intake hedonically rather than based on energy-intake. However, both high-fat and high-carb diets appeared to be equally effective at inducing short-term satiety at 4 hours after feeding.
To view the article, visit the Journal of Animal Science.