Interpretive Summary: Endogenous fat loss and true total tract digestibility of poultry fat in adult dogs.
By: Surely Wallace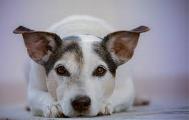 In a July 2017 article published in the Journal of Animal Science, researchers evaluated the true total tract digestibility (TTTD), apparent total tract digestibility (ATTD) and endogenous fat loss (EFL) in dogs fed differing ratios of fat to carbohydrates. Their purpose was to better understand the role dietary fat plays in nutrient digestibility in dogs.
The caloric content of commercial dry dog food is primarily derived from carbohydrates, with fat content variable, often between 5-13%. The authors state that dogs have both a preference and tolerance for dietary fat and therefore decided to study the effects of dietary fat on nutrient digestibility in dogs.
A total of 12 adult Beagles were evaluated over a 10-day period. Each dog was housed in a metabolic cage (six treatment groups and n=2 dogs per treatment). Basal diet was 3.4% fat. Treatment diets contained basal diet, 1% added palpability enhancer powder, plus an additional poultry fat content of 1, 4, 10, 12, 16, or 20% for each respective treatment. Dogs were fed twice daily based on their maintenance energy requirements. Feces were collected and analyzed for endogenous fat on days 6 to 10.
The authors noted that in their study, the 1 and 4% poultry fat diets were least palatable to the dogs, but metabolizable energy intake was comparable across all treatment groups. The daily fecal output of dogs decreased with higher dietary fat content in the diet. However, the stool quality was not affected by fat. Fat TTTD did not significantly change based on dietary fat content across treatment groups, with 99.3% digestibility reported. Steatorrhea was also not noted in any of the dogs. The EFL was calculated at 7.9 g/kg of dry matter intake. The ATTD of dry matter, organic matter, fat, and gross energy increased with increased fat in the diet, but there was no notable difference in crude protein.
The authors concluded that poultry fat is highly digestible in dogs. The results of this small study also suggest that higher fat content may make food more palatable to dogs, which indicates potential for weight issues due to overeating if a high fat diet is not limited based on energy requirement. The authors also suggest that ATTD differences based on dietary fat content in the diet should be taken into account when formulating fat-restricted diets for dogs. Larger studies looking at different breeds, dogs at different life stages, and different sources of fat may be useful in order to better characterize and support these findings.
To view the full article, visit the Journal of Animal Science.