Highlights from the Beef Symposium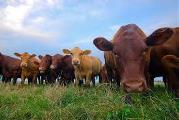 During the 2018 WSASAS beef symposium, grazing and land management in the Western US was highlighted. Multiple Speakers from around the country came together and discussed challenges associated with new grazing programs and how they affect land management objectives. This specifically was emphasized by Marty Vavra during his discussion of past and current grazing in the Intermountain West. Marty has 47 years' experience working with rangeland livestock and grazing systems. A discussion of how plant communities, livestock/wildlife relationships and livestock grazing management were explained in today's presentation. This topic was continued with a discussion from Dustin Johnson. Dustin has over 10 years' experience working with livestock and rangeland services, and discussed identifying management practices that enhance productivity. Dr.'s Chad Boyd and Derek Bailey both highlighted management systems being utilized to meet the land management objectives, which included grazing behavior and resilient management. Multiple topics were reviewed emphasizing impacts on grazing and rangeland management, for instance, how invasive plants impact grazing opportunities. This was covered by Dr. Barry Perryman who has more than 20 years' experience in rangeland ecology. Additional topics included, how cow size and efficiency impacts the rangeland environment, which was discussed by Leticia Henderson, and how to modify fuel characteristics and fire behavior by grazing, presented by Dr. Kirk Davies.
Further information about the beef symposium can be found here, as well as, information about the speakers and their areas of research.