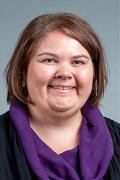 Kasey DeAtley
Bio:
Kasey DeAtley is a native northern Californian and is currently an Assistant Professor of Animal and Range Science at CSU, Chico in the College of Agriculture. She completed her master's degree in 2009 at New Mexico State University followed by a PhD in 2012 in animal science with an emphasis in reproductive physiology and beef cattle genetics. Kasey's research focuses on applied ruminant reproduction, genetics, nutrition, and range science. Currently, DeAtley co-advises the Young Cattlemen's Association and the University Farm Beef Unit. She and her sister, Kallie Graham are working alongside their family to build their cattle enterprise, Two Doc's Land and Cattle.
Vision for Western Section ASAS
The Western Section of the American Society of Animal Science has always been a strong organization that excels in applied animal science, training graduate students for academia and industry, and creates a network of professionals who are always willing to advise, serve, and foster new growth. It is my goal to continue this tradition while building resources and activities to engage undergraduates who will become life-long members of the Western Section and ASAS, regardless of if they choose academia or industry. It is a privilege to be involved in such a fantastic organization and I look forward to serving its members in the future.