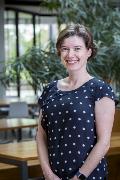 The next World Conference on Animal Production (WCAP) meeting will be held directly ahead of the 2018 ASAS-CSAS Annual Meeting & Trade Show in Vancouver, Canada.
We are pleased to introduce you to Keynote Speaker, Dr. Jennie Pryce, of La Trobe University in Australia and Agriculture Victoria.
Dr. Pryce will give her keynote address, "The next genomic revolution through vets and animal scientists," on Thursday, July 5, 2018.
Dr. Pryce is Principal Research Fellow with the School of Applied Systems Biology at La Trobe University and Principal Research Scientist in Computational Biology with Agriculture Victoria's Biosciences Research branch, based at AgriBio, where she leads a team of scientists and supervises Ph.D students. Dr. Pryce's main areas of interest include genetic improvement of functional traits in dairy cattle (especially female fertility and feed conversion efficiency), optimizing breeding scheme design under genomic selection and development of dairy selection indices.
Dr. Pryce is a senior editor with the Journal of Dairy Science and a member of the International Committee on Animal Recording working group on functional traits. In Australia, Dr. Pryce sits on several industry and research alignment groups that shape the future of dairy research in Australia.
Learn more about the WCAP meeting program and invited speakers here.
The 12th World Conference on Animal Production will be held July 5-8, 2018, at the Westin Bayshore, Vancouver.
Plan to stay over in Vancouver for the 2018 ASAS-CSAS Annual Meeting & Trade Show, July 8-12, 2018.