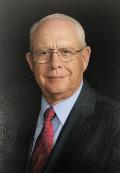 Dr. Zerle Leon Carpenter passed away peacefully at the age of 83, on July 23, 2018, at his home in Bryan, Texas. He was born July 21, 1935, in Thomas, Oklahoma, to Mildred and Ronald Carpenter who were devout Christians and lifelong educators. Dr. Zerle L. Carpenter was a respected professor and leader in animal science, meat science and agricultural administration.
Zerle lived life well with love for his Creator, family and friends. He enjoyed cattle ranching at the farm in Tabor. He was an avid fisherman and enjoyed golf with his friends during his retirement years. He was a member of First Baptist Church in Bryan, Texas, where he served as a deacon, teacher and member of the Business Men's' Bible Class. Zerle took time to build relationships with the people in his life through encouragement and loyal friendship.
To read his obituary in its entirety, follow this link.