Congratulations Dr. Jadhao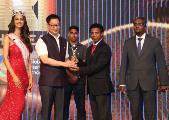 ASAS member, Dr. Sanjay Balkrishna Jadhao, Director, R & D, International Nutrition Inc, Omaha NE, is a 2018 recipient of the prestigious TIMESNOW ICICI Bank NRI of the Year Award. The award was presented by Mr Kiren Rijiju, Union Minister of State for Home Affairs of India on July 11th, 2018 at a glittering red carpet ceremony held at Grand Hyaat, Mumbai. India. An avid traveler (visited 150 countries) and best young parliamentarian, Hon'ble Minister congratulated Dr Jadhao. The 5th edition of awards was attended by host of eminent personalities from TV/media, corporate world, sports, Bollywood cinema and three beauty pageants (Miss India 2018). The evening also witnessed a mesmerizing dance performance by Terence Lewis Institute.

NRI of the Year (NRIOTY) Awards is India's most distinctive awards recognizing the outstanding achievements of the crème de la crème of 31.2 million Indian diaspora globally, who continue to be an inspiration for millions back at home. The awards were given in six different categories – Entrepreneur, Professional, Academics, Arts & Culture, Philanthropy, and Start-up, along with other noncompeting ones such as India's Global Icon Award and Special Jury Award. Individuals whose knowledge, commitment, talent and passion have contributed immensely to their profession or to the success of the organization they work for in the capacity of an employee are honored with the NRIOTY Professional. Jadhao is the only one in this category to receive the honor from North America this year and the only animal agriculture scientist from among 100 honored so far during five seasons commencing 2014. This year, of the 11,500 nominees from across four global regions – North America, UK, Middle East and Asia Pacific, 23 winners were selected and honored. The high-profile jury for NRI of the Year Awards 2018 comprised CEOs (Invest India, Bombay Stock Exchange, Bhaba Atomic Research Center), internationally known cricket commentator and renowned author of books and a renowned film, TV and theatre actor. Fifty nine screening jury members from around the world handled the entries. A global professional giant, Ernst & Young (EY) is the Process Advisors and has defined the multi-tiered process for evaluating the entries and facilitating winner determination for these awards.

Dr. Jadhao has been with the International Nutrition Inc for the last five years. He began career in ARS in 1997 at ICAR-Central Institute of Fisheries Education and was promoted to Sr Scientist in 2010. He served as a founder faculty of Fish Nutrition and Biochemistry division and taught and advised over 100 (include 16 thesis) graduate students. An author of over 100 scientific articles (45 journal) and three patents, Jadhao served as an Editor of PLOS ONE(2017-18) and AJAS (1999-2017). Earlier, he received BIO-2015 Top Honor, certificate for singing on TV-Asia, NJ and social accolades for his poems including on nature sustainability. Jadhao received DVM and MVSc from Nagpur Veterinary College and Ph.D. degree from Indian Veterinary Research Institute. He was visiting scientist at INRA, Clermont Fd and University of Maryland, Baltimore.
We would like to congratulate Dr Jadhao for this distinguished award and highlighting cause of the animal agriculture.
TIMESNOW will broadcast the NRIOTY event on 4th and 5th August and can be seen in US at 7PM EST.