Interpretive Summary: Substituting ground woody plants for cottonseed hulls in kid goat feedlot diets: growth performance and blood serum chemistry.
By: Surely Wallace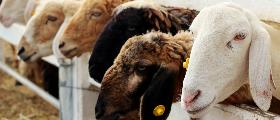 In an article published in July 2018 in the Journal of Animal Science, researchers studied the effects ground woody plants, compared to cottonseed hulls (CSH), had on growth performance and health of kid goats (average age 6 months). Their goal was to determine if mature juniper or mesquite could be used as an economically feasible roughage substitute for CSH in feed.
The authors stress the need to research alternative roughage sources to CSH in livestock feed, which may not always be favorable to use due to cost and environmental factors. A good source of roughage should be affordable and not have any negative impact on livestock production efficiency. The authors chose juniper (Juniperus species) and mesquite (Prosopis species). Both plants are invasive to rangelands and therefore may have potential use as an economically feasible roughage source to be used in livestock feed.
A total of 48 kid goats of similar body weight were assigned to one of 6 different diets. Each treatment group included 8 goats (4 male and 4 female). The experimental period lasted for 64 days, with two feeding periods. Period #1 (30% roughage) lasted to day 26, and period #2 (14% roughage) lasted from day 27 to 64. Roughage was sourced from CSH (control diet), or mature ground woody plants, as follows: redberry/J. pinchotii (RED), blueberry/J. ashei (BLUE), one-seed/J. monosperma (ONE), eastern red cedar/J. virginiana (ERC) and P. glandulosa (MESQ). Blood samples were taken from the goats to determine if there was any negative health impact.
Results indicated that with 30% roughage diets, the average daily dry matter intake was greater for goats fed CSH than MESQ. The average daily gain and gain-to-feed ratio was significantly less in the MESQ goats, compared to CSH goats. There was no significant difference in growth performance between CSH and the RED, BLUE, ONE, or ERC diets. With 14% roughage diets, there was no significant difference between CSH and any of the treatment groups. Blood tests, including liver function tests, were in the normal range for all animals, indicating no observed adverse effects of these alternative roughage diets on the animals in this study. One goat fed ERC died from a bowel ulcer, although causality of the ulcer was not determined.
The authors conclude that juniper woody plant species, particularly J. pinchotii, J. ashei, or J. monosperma, may have potential as a safe and economically viable substitute roughage source to replace CSH in goat feed. Based on this study's results, larger studies involving more juniper woody plant species in goats and different types of livestock animals may be warranted.
To view the full article, "Substituting ground woody plants for cottonseed hulls in kid goat feedlot diets: growth performance and blood serum chemistry," visit Journal of Animal Science.