Interpretive Summary: Analysis of temporal fecal microbiota dynamics in weaner pigs with and without exposure to enterotoxigenic Escherichia coli.
By: Surely Wallace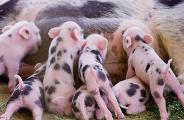 Post-weaning pigs are at risk for colibacillosis from enterotoxigenic Escherichia coli (ETEC). Production losses from ETEC may occur due to subclinical effects without diarrhea or frank disease with diarrhea. In a September 2018 article published in the Journal of Animal Science, researchers studied how exposures to ETEC affected the fecal microbiota of post-weaning pigs and profiled temporal shifts in pig fecal microbiota during weaning transition.
This experiment was split into two "rounds" with 27 pigs in the first round and 32 pigs in the second round. Pigs averaged 27 days old at time of weaning. Sixteen pigs from each round received exposures to an ETEC strain that was known to cause colibacillosis in their feed on days 4, 6, 8, 11, and 13 post-weaning. The control pigs, designated "sham-exposed," were instead given sterile PBS on the same schedule. Pig fecal samples were collected for 16S genetic analysis prior to exposures (on day 4) and also on days 8, 12, 15 and 19. Weights were taken every 7 days, starting on day 0 post-weaning and ending on day 28, to determine ADG.
Results of the fecal analysis identified 21 different bacterial phyla with the majority from Bacteroidetes (46%), Firmicutes (34%), Spirochaetes (4%) and Proteobacteria (4%). Of note, ETEC are included in the phyla Proteobacteria. The authors indicated that shifts in fecal microbial population did occur over time, with Bacteroidetes increasing as the genus Prevotella increased. This change was due to the shift in diet from milk to less digestible complex carbohydrates in postweaning feed, which favors Prevotella. The authors noted no significant difference in the weights or ADG of ETEC-exposed versus sham-exposed pigs. Additionally, the microbial community of sham-exposed pigs was not noted to be different from ETEC-exposed pigs. However, when ETEC-exposed pigs were separated by amount of ETEC excreted in their feces (high, intermediate, and low excretion) it was noted that "high shedders" had a fecal microbial community structure that was significantly different at certain time points, when compared to the sham-exposed pigs and "low shedders."
This study suggests the possibility of a limited and time specific effect on the fecal microbiota population of post-weaning pigs who shed large amounts of the ETEC bacteria in their feces after exposure. However, it is of note that none of the pigs in this study were reported to become ill from the exposures, which suggests there may be a need to study symptomatic pigs. Furthermore, the reason for differences in excretion levels of ETEC in feces of exposed pigs was not determined, and might be an area of interest to be explored. Overall, there is need for more in-depth research on this topic with a larger study population size, in order to better understand how ETEC may affect fecal health and gut microbial population of post-weaning pigs.
To view the full article, "Analysis of temporal fecal microbiota dynamics in weaner pigs with and without exposure to enterotoxigenic Escherichia coli," visit the Journal of Animal Science.