Megan Anderson
ASAS Policy Internship
NIFA - Congressional Affairs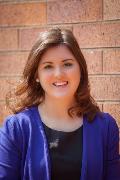 This summer I had the privilege of interning at the National Institute of Food and Agriculture working with the Congressional and Stakeholder Affairs Director Josh Stull. I knew it was going to be a summer to remember the first day I walked up to the USDA building and saw how historical it was. That was the place I got to call work for the next couple of months and the view from my desk overlooking the National Mall was enough to make me smile and stop to admire it everyday. Even my last day I still was pitching myself this was what I had the opportunity to do for my summer.
My favorite part of the experience was attending USDA's National Agricultural Statistics Service Lockup. NASS goes into lockup to prevent anyone from gaining information about the report and thus having an advantage in trading on the commodities market. Even the Secretary of Agriculture doesn't know the report details until he enters the room to sign the report prior to the release. It was a surreal feeling setting in the room listening as they gave an overview of that week's report. In the moment, I, along with everyone else essentially knew information the rest of the agriculture community didn't know.
Each day varied for me. Some days I was working on fact sheets highlighting NIFA's presence in each of the 50 states. The farm bill also became a priority many days. Some of my favorite days where participating in intern events were I networked with other interns and folks who were involved in agriculture policy.
My experience in D.C. taught me more about myself and I grew as a person in ways I never thought possible. It just shows never to turn down an opportunity no matter how big and scary it may seem at the time. Sure, I missed being close to home for the summer but what my summer in D.C. taught me outweighs everything else. In the fall, I returned to Penn State to finish my Animal Science degree and compete on the livestock judging team. I would like to thank all the donors that make it possible for students like myself to experience an internship in D.C.