Congratulations Dr. Ramanathan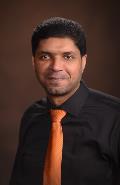 Dr. Ranjith Ramanathan was awarded one of two National USDA Food and Agriculture Sciences Excellence in Teaching (New Teacher) award at the Annual meeting of the Association of Public and Land-grant Universities held in New Orleans on November 11.
Enthusiastic, passionate, caring, and engaged are the words used by Ranjith Ramanathan's student to describe his teaching style. Ram, as the students call him, has a flexible teaching approach that allows him to use the students' personal strengths to reinforce the value of education. His food science courses are not only designed to teach students about food science, but also to create life-long learners. Ram teaches six different courses related to food science, ranging from introductory to graduate level.
In addition to his creative teaching, Ramanathan maintains a vibrant research program in muscle biochemistry and meat quality with more than 55 peer-reviewed manuscripts, one book chapter, 115 abstracts, with more than $1.6 million in research funding. He has been an advisor or co-advisor for to 55 graduate students, 24 undergraduate research scholars, and 3 visiting scholars. Ramanathan's research program focused on the biochemistry of fresh meat color and he has received multiple funding from USDA and commodity groups.
Ramanathan received the Association of Public and Land-grant Universities Innovative Teaching Award, North American Colleges and Teachers of Agriculture Young Educator Award; Alpha-Zeta Award for Outstanding College Agriculture and Natural Resources Teacher, Oklahoma State University; American Society of Animal Science Southern Section, Outstanding Young Animal Scientist; American Society of Animal Science Southern Section Teaching Award, and Early Career Award, Excellence in Teaching, College of Agricultural Sciences and Natural Resources, Oklahoma State University.
Ramanathan earned a bachelor's degree at Kerala Agricultural University and master's and Ph.D. degrees at the University of Connecticut. He is currently an Associate Professor in meat/food science in the Department of Animal and Food Sciences at Oklahoma State University.