Emerging Young Scholar - Ashley Fowler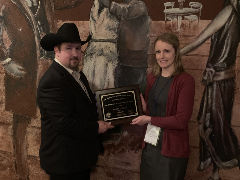 Ashley Fowler is the recipient of the 2019 American Society of Animal Science Emerging Young Scholar Award, presented to her this week during the ASAS Annual 2019 Southern Section Meeting held in Oklahoma City, OK.
A native of California, Ashley Fowler received her B.S. in Animal Science from the University of California, Davis. She received her M.S. and Ph.D. degrees from the University of Kentucky (UK). While at UK, Ashley received the Graduate School Academic Fellowship, the Kentucky Opportunity Fellowship, and the Karri Casner Environmental Sciences Fellowship. Her research focuses on phosphorus digestion, metabolism and excretion by horses. Her innovative studies have shaped new concepts about the dietary phosphorus requirements of horses that will lead to more effective use of phosphorus in horse feeds and reduce the amount of phosphorus excreted into the environment. During her graduate program, she authored or co-authored two book chapters, seven refereed publications, and numerous abstracts. She has also completed her Graduate Certificate in College Teaching and Learning. She taught courses at Midway College, volunteered as a teaching assistant for ASC 378 (Animal Nutrition) and served as coach for the UK Forage Bowl Team. She has also presented guest lectures to college and high school students at Asbury College, Lexington Catholic High School, and Locust Trace Agriscience Farm. She has served in leadership positions for the Animal and Food Sciences Graduate Student Organization and on the College of Agriculture, Food and Environment Curriculum Committee.
The ASAS Emerging Young Scholar Award recognizes a member of ASAS and their exceptional research being conducted in the southern region by Ph.D. candidates and their mentors. This award is sponsored by Zoetis.
Read below about the research Ashley will be presenting at the meeting.
Impact of phosphorus recycling on the equine phosphorus requirement
Ashley Fowler
Phosphorus is a culprit in eutrophication of surface waters, and is also a limited, non-renewable resource. As such, dietary P intakes by horses should be optimized in order to provide only what the animal requires, reducing the drain on this limited resource and minimizing excessive excretion. Over the past 50 years, the Nutrient Requirements of Horses have decreased their estimates of P digestibility, leading to an increase in P requirements. The belief that phytate-P is not available to horses has partly driven this decrease in P digestibility estimates, but our research indicates that phytate-P is 95% degradable in the equine gut, suggesting that P digestibility may be greater than previously believed. The reason for low observed P digestibility may not be due to inefficient digestive processes, but may be related to how the horse maintains P homeostasis.
Phosphorus absorbed in excess of requirements does not end up in the urine, as urinary P excretion is extremely low under normal conditions. We hypothesized that homeostasis is maintained by recycling P that is absorbed but unneeded back into the gastrointestinal tract for excretion in the feces, leading to artificially low estimates of P digestibility. Two of our digestibility studies showed a relationship between weight loss and fecal P excretion, possibly due to P contained in mobilized tissue being secreted in the gut for excretion. In horses fed the same amount of P, those that gained weight excreted less P than horses that lost weight, indicating that P secretion into the gut does occur. These studies suggest that P recycling into the gut is the main way that horses maintain homeostasis and that previous measures of P digestibility may be inaccurate. It is likely that P requirements can be reduced without impacting horse health, which may result in a reduction in inorganic P use in equine diets and a decrease in P excretion into the environment.