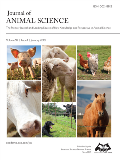 A new issue of the Journal of Animal Science is out! Don't forget to take a look at all the new exciting research now published.
*Remember- new interpretive summaries come out every week in Taking Stock. Keep an eye out for hot topics that spike your interest!
Click here to view the Table of Contents for the new February issue of JAS!