Midwest Academic Quadrathalon Results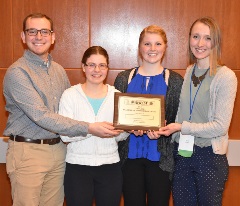 Congratulations to the undergraduate team from North Dakota State University! The team took top honors this week in the Midwest Academic Quadrathalon. Michigan State University placed 2nd overall, followed by University of Missouri in 3rd place. In all, 11 teams competed in the AQ.
Here are results for each of the AQ events.
Lab Practicum
1st – Michigan State University
2nd – North Dakota State University
3rd – University of Missouri
Oral Presentations
1st – North Dakota State University
2nd – UW - Madison
3rd –University of Nebraska
Written Exam
1st – North Dakota State University
2nd – Michigan State University
3rd – University of Missouri
Quiz Bowl
1st – North Dakota State University
2nd – Michigan State University
3rd – UW - Madison
The following schools participated in the competition:
University of Missouri
Kansas State University
North Dakota State University
University of Illinois
University of Findlay
University of Nebraska-Lincoln
University of Wisconsin-River Falls
University of Wisconsin-Madison
Purdue University
Michigan State University
University of Wisconsin - Platteville