Cal Poly Wins Western Section Academic Quadrathalon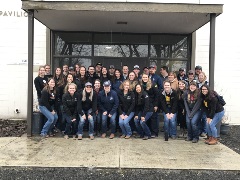 California Polytechnic State University- San Luis Obispo was the winning team at 2019 Western Section American Society of Animal Science (WSASAS) AQ contest held April 5th-6th in Moscow, ID at the University of Idaho. Members of the team were Selby Boerman (Montague, CA) Sarah Dreyer (Exeter, CA) Hannah Neer (Bishop, CA) and Kaitlyn McFarlan (Exeter, CA). A total of 8 teams participated in the contest and they were Cal Poly, BYU-Idaho, Chico State, New Mexico State, Utah State, Montana State, Oregon State, and Univ. of Idaho.
The AQ contest consists of the following four events: written exam, oral presentation, lab practicum (8 labs), and quiz bowl. Teams completed the written exam and oral presentation on Friday (5th), and the lab practicum and quiz bowl on Saturday (6th). The topic of the oral presentation was "How to increase consumer confidence/education in animal agriculture."
Cal Poly placed 2nd in the double elimination event quiz bowl along with ranking 2nd in written exam. In the Oral Presentation they were ranked first in close competition as quoted by the judges. In the lab practicum, Cal Poly showed their ability to be hands on learners by placing 1stoverall and being the top ranked team in 6 of the 8 eight labs. After the quiz bowl finished, results were announced and Cal Poly was named the overall winner of the contest. This is their first year participating in the last 20 years.
For placing first overall, each team member received a belt buckle and the team received a traveling trophy. Cal Poly will represent the WSASAS at the national AQ contest, which will be July 7th-8th at the 2019 ASAS-CSAS Annual Meeting to be held in Austin, Texas. Winners of each of the 4 regional competitions (Western, Southern, Midwestern, and Northeastern) advanceto the national contest.