Companion Event I: Bullock Texas State History Museum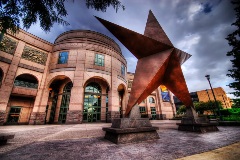 July 8 - 10:00 AM – 3:00 PM – ticket price includes transportation
Get lost in the fascinating stories of Texas as you learn about the state's rich history, and immerse yourself in unique media and film experiences. Distinctive shopping and dining will enhance your visit to this iconic building in the heart of Austin's cultural district, just north of the Texas State Capitol. The Museum is a favorite excursion destination not to be missed by those who want to get in a Lone Star state of mind.
For more information on the museum, click here.