Dr. Robert Goodband Receives the AFIA Award in Nonruminant Nutrition Research from the American Society of Animal Science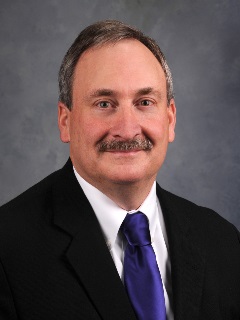 Dr. Robert Goodband is the recipient of the 2019 AFIA Award in Nonruminant Nutrition Research, presented to him on Tuesday July 9, 2019 during the Nonruminant Session I at the ASAS-CSAS Annual Meeting held in Austin, Texas.
Dr. Bob Goodband is a swine nutritionist at Kansas State University. Originally from Walpole, Massachusetts, Bob graduated from The Pennsylvania State University in 1984. He obtained his M.S. and Ph.D. in Swine Nutrition at Kansas State University, and joined their faculty in 1989. Bob and his co-workers have played an important role in developing an intensive on-farm research program that has conducted numerous on-farm trials across the U.S. His work has resulted in 310 refereed journal papers, 6 book chapters, over 1,000 research reports and Extension publications, 8 patents, and $13.9 million in grants and gifts to K-State. Bob also teaches Swine Science and Swine Nutrition courses and serves as academic advisor to 40 to 45 undergraduate students each year. Bob has served as the major professor for 22 M.S. and Ph.D. students and on committees of an additional 113 students. Bob enjoys spending time with his wife Dani, and son Brady on their small farm outside of Randolph, KS.
The AFIA Award in Nonruminant Nutrition Research recognizes an individual who has contributed to and published outstanding work in the last 10 years in the field of nonruminant nutrition. This award is sponsored by the American Feed Industry Association.