Dr. Elizabeth "Betsy" Greene Receives the WSASAS Extension Award from the American Society of Animal Science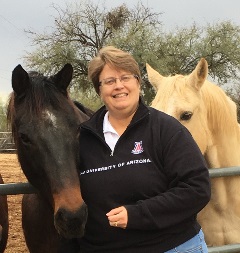 June 13, 2019 – Dr. Elizabeth "Betsy" Greene is the recipient of the 2019 WSASAS Extension Award, presented to her this week during the 2019 Western Section Meeting held in Boise, Idaho.
Dr. Elizabeth "Betsy" Greene, started her studies at Morehead State University. She received an Associate of Applied Science and Bachelor of Science in Animal Science from Morehead. She received a Master's degree from the University of Arizona and a Ph.D. from Kansas State University. She was hired as an Equine Extension Specialist at Washington State University in 1993, spent almost 16 years in Vermont and is now back at the University of Arizona. Betsy's accomplishments are vast; her enthusiasm, infectious; her work ethic, tireless. Her involvement with HorseQuest and Extension Horses, Inc. has pioneered the way equine specialists and others work collaboratively in real-time across state lines in the development of equine content and programs to benefit horse owners throughout the world. Betsy's advocacy to raise awareness of the issues facing the horse industry, promote solutions and provide educational opportunities has been an underlying current of her contributions to the field of equine science. As a part of Arizona Cooperative Extension, Dr. Greene has demonstrated outstanding extension outreach to both youth and adults throughout the state of Arizona. She has worked hard to foster productive working relationships with specialists, agents, program coordinators, and volunteers around the state. Dr. Greene's continued commitment to service and leadership at every level is demonstrative of her commitment to supporting Cooperative Extension, its agents, and its mission.
The WSASAS Extension Award recognizes an individual in the western region institutions for outstanding achievements in animal science extension programs. This person has made contributions in animal science extension in areas related to livestock production, product utilization, adult education, 4-H clubs, and other cooperative livestock associations.