Robert Posont Receives the WSASAS Young Scholar M.S. Award from the American Society of Animal Science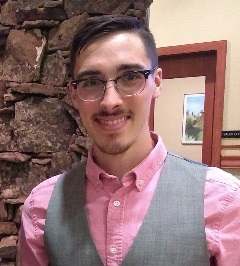 June 13, 2019 – Robert Posont is the recipient of the 2019 WSASAS Young Scholar M.S. Award, presented to him this week during the 2019 Western Section Meeting held in Boise, Idaho.
Robert grew up in rural Nebraska, finding his passion for animal science while working as Wrangler at YMCA Camp Kitaki. He began his undergraduate degree at The University of Toronto. In May of 2017, Robert received his Honors Bachelor's Degree with a double major in Animal Physiology and Health & Disease, as well as a minor in Immunology. During his final year in university, Robert found himself drawn toward research in Comparative Endocrinology and Stress Physiology. In June of 2017, he joined Dustin Yates' Stress Physiology laboratory, and began his graduate career at the University of Nebraska-Lincoln. His thesis research involved understanding the effects of maternal inflammatory activation and cytokine release on fetal muscle development and metabolic function and how that affected postnatal outcomes. He also performed studies that assessed the effect of IUGR on intrinsic muscle stem cell function and how that affected muscle growth capacity. Robert performed studies in collaboration with Omaha's Henry Doorly Zoo and Aquarium, Lincoln Children's Zoo, and The Abilene (TX) Zoo to develop techniques to assess stress levels by measuring stress-responsive genes in whole blood of cheetahs, giraffes, and elephants. Upon completing his MS this spring, Robert has been accepted into a PhD program at the Smithsonian Institute to train with world-renowned elephant reproductive physiologist Dr. Janine Brown. He will complete his coursework at George Mason University working under his co-advisor Dr. Scott Glaberman.
The WSASAS Young Scholar Recognition Program acknowledges the research accomplishments of students in the Western Section of ASAS. This award is sponsored by Zinpro.