Dr. James Sartin Receives the ASAS Morrison Award from the American Society of Animal Science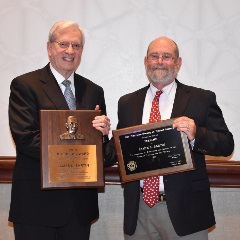 July, 2019 – Dr. James Sartin is the recipient of the 2019 ASAS Morrison Award, presented to him during the Opening Ceremony, at the 2019 ASAS-CSAS Annual Meeting held in Austin, Texas.
Dr. Jim Sartin is an emeritus professor of Physiology at the College of Veterinary Medicine at Auburn University. Sartin received his B.S. and M.S. from Auburn University and a Ph.D. from Oklahoma State University. Sartin was a post-doc and staff scientist at Temple University and then joined the faculty at Auburn. His research has focused on control of hormone secretion with an emphasis on neuroendocrine control of appetite and feed intake in ruminants, and the impact of endotoxins and disease on the endocrine-appetite system. Dr. Sartin has published more than 130 peer-reviewed articles and has made more than 160 invited presentations in18 countries. Dr. Sartin has been PI or co-PI on over $5 million in extra- and intra-mural funding. He served as ASAS as a Director-at-Large and President as well Editor-in-Chief of the Journal of Animal Science, Translational Animal Science and Animal Frontiers. Jim and his wife, Eva, have two adult sons and live outside Birmingham, AL.
The ASAS Morrison Award recognizes a member of ASAS who has done outstanding recent research that has been of direct importance in livestock production. This award is sponsored by the F.B. Morrison Fund.