Unstoppable Women In Ag: Empowering All
By: Anne Zinn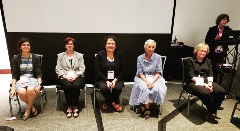 On the morning of July 10, 2019, attendees of the ASAS-CSAS Annual Meeting flocked to a small room on the fourth floor of the Austin, TX convention center to attend the Unstoppable Women in Ag symposium. The agenda featured five women in various fields and stages of their careers discussing their experiences, both personal and professional, their philosophies, and offering advice for attendees of all ages and genders.
Dr. Gretchen Myers Hill, Professor Emeritus, Michigan State University, began the session with a talk titled "Pigs Fly & So Do Women." Dr. Hill encouraged those in the audience to invest in their passions and continue to identify opportunities for development. She stressed that regardless of age, there is always an avenue to keep moving forward, to serve, to take leadership positions, to learn more, and, most importantly, to listen to one another. Dr. Hill was followed by Dr. Shannon Archibeque-Engle, the Assistant Vice President of Diversity at Colorado State University. While not a trained animal scientist, Dr. Archibeque-Engle shared her educational background in Toxicology and her decision to focus on her family. This connected to her point that women's' careers may look different, that they are not always a straight trajectory, and that is okay; she also stressed the importance of knowing and "doing your priorities", not what other people believe you should be doing. Dr. Archibeque-Engle discussed the importance of diversity, equity, and inclusion in the workplace and how those in the room might go about achieving it. Additionally, she discussed the importance of naming the "isms" that may be encountered, and she emphasized that courage is absolutely necessary to move forward in these discussions and changes.
Next up, Dr. Teresa Davis, Professor at Bayer College of Medicine, discussed her career research with nutritional health and the scientists she worked with. Dr. Davis offered advice to those looking to acquire grants for research and emphasized the lessons she has learned along the way. Most importantly. Dr. Davis encouraged those in the audience to say YES to opportunities and to be open to new possibilities, personally and professionally. Following Dr. Davis, the audience heard from Dr. Kris Johnson, Professor at Washington State University, who discussed her passion for teaching. Dr. Johnson outlined the joys and challenges of teaching and the lessons she has learned throughout her 30 year teaching career; she encouraged the audience to embrace change, to actively participate in mentoring and networking, to accept help from others, and to learn from the inevitable failures.
To complete the presentation portion of the morning, Dr. Michelle Calvo-Lorenzo, Technical Consultant at Elanco Animal Health, gave a personal presentation about her experiences in her young adult life and her time in the Animal Science profession. She explained that much of what she has experienced could be described as "being a minority in a majority world," and acknowledges that there will continue to be obstacles. What pulls her through, and what she employed the audience to consider, is her "why" - why do you do what you do?
The symposium concluded with a panel discussion, allowing the audience to ask questions of the five speakers. While there was only a short time for questions, this, for many, was the most impactful moment. Women in the audience asked personal questions, seeking advice for balancing pregnancy/raising a family and career advancement, and how one might navigate the personal and professional impacts of having to "suck it up" when it comes to discrimination and harassment. The panel acknowledged the courage it takes to endure these experiences and the courage that continues to be necessary to eradicate them.
Across all speakers, the themes of self care, balance, and priorities took center stage. For all professions, all genders, all ages, each presenter shared the importance of finding a work/life balance, understanding your own priorities, and taking stock often to evaluate what comes next and how.