The Lakes of Wisconsin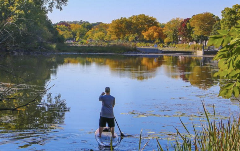 The next time you visit Madison, be sure to find time on the lakes—there are five to explore: Mendota, Monona, Waubesa, Kegonsa and Wingra. Whether you're looking for lake access to launch your own watercraft, or prefer cruises and boat rentals that put someone else in the captain's chair, you're sure to enjoy every moment on our Wisconsin waters. If you'd rather be in the lake than on it, there are more than a dozen parks and beaches to help you beat the heat and enjoy a bit of exercise.
When your day is done, no need to leave the lake! The Greater Madison area offers a wealth of waterfront restaurants that allow you to savor unique flavors—and watch the sun set-while you dine.
EXPERIENCE THE WATER
Three new Madison experiences will take you deeper into the beautiful and storied waters around Madison. Climb aboard the Betty Lou to hear the stories of our unique city as you relax with beautiful views and delicious food. For an active experience, hop in a kayak as a UW-Madison student leads you on an aquatic adventure. Strap on a set of snowshoes in the winter for a walk to picnic point, or a trek to the middle of the frozen lake.