ASAS Membership – the benefits are immeasurable
Eric Scholljegerdes, Ph.D.
Associate Professor, New Mexico State University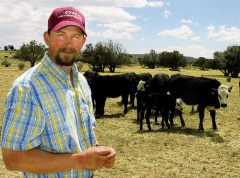 I became a member of ASAS as an undergraduate when I registered for my first scientific meeting. It was the Midwest ASAS meetings and I had no idea what a scientific meeting entailed but what I did know was that it must be horrible because the graduate students I worked for were very stressed. I walked away with a new appreciation of the research I was helping with and that the early mornings and late evenings spent feeding research animals were an important part of the research process. I cannot say it was entirely that meeting that got me focused on a career in research but it certainly played an integral role in bringing me to where I am today.
During my graduate program, I was extremely fortunate to have an advisor that was very supportive of professional development. He put into perspective the old adage, "It's not always what you know but who you know". Participation in ASAS meetings provided ample opportunity to get to know professionals from various regions of the country. As a graduate student, I was excited to meet the scientists that authored the papers I was reading on a daily basis, it was like meeting a celebrity, and yes I was very nervous to talk to them. But you soon realize that they are easily approachable and enjoy talking with graduate students. As I progressed through graduate school, I was able to see how networking, not only with faculty but with industry professionals, was crucial for professional development. The opportunity to sit down between sessions and discuss research results was exciting and fruitful, as future research was often the result of an impromptu discussion over a cup of coffee.
After graduating with my Ph.D. I understood that continuing my membership with ASAS would keep me connected with my peers and collaborators. I began serving the society as a session chair and became involved with various committees both at the national and regional levels. This was critical for my growth as a young scientist. As promotion and tenure began to loom in my future, my service to the society became an important part of my promotion packets. It also provided additional leadership experiences that have served me well in my position at New Mexico State University. Likewise, I was fortunate to serve two terms as an editor for the Journal of Animal Science, which helped with my writing and time management skills.
Of course, professional development is only one side of ASAS membership. Membership provides opportunities to be the voice for science and agriculture. It is evident that as scientists we must maintain an active role in political and societal issues regarding animal research, teaching, and production. Through the valiant efforts of members like us, ASAS has initiated a number of programs to educate politicians, youth, and society on critical issues facing animal agriculture. There is nothing more rewarding than making a difference, that is why we all became scientists, and membership in ASAS provides us that opportunity.