Global Animal Nutrition Summit 2020
FIRST CALL: REGISTRATION NOW OPEN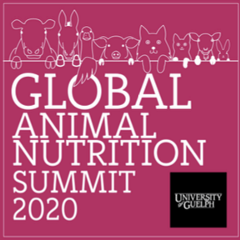 The Ontario Veterinary College and the Ontario Agricultural College are proud to be hosting the first Global Animal Nutrition Summit, August 11-15, 2020 at the University of Guelph, Ontario, Canada. We are honored to bring together eight international animal nutrition organizations for the first time, with the goal of creating an inclusive global venue for veterinary, animal and comparative nutritionists to discuss animal nutrition research. A 3-day summit; August 12-14, 2020; entitled "What Does the Future Hold for Feeding Animals?", will showcase important and fascinating topics through thought-provoking discussions from our five invited speakers: Dr. Evan Fraser, Dr. Mary Beth Hall, Dr. Benjamin Bohrer, Dr. Thomas Wolever, and Dr. Angelo Tremblay
In addition we'll be hosting on August 15, 2020, following the main conference, a single-day symposium, entitled "Fuelling Wellness – Developing Your Animal Nutrition Tool Kit" offering continuing education to veterinary health care professionals, companion animal paraprofessionals (pet store employees, breeders, trainers), and equine enthusiasts. We encourage all attendees of the 3-day summit to stay and participate in the Fueling Wellness symposium.
We are excited to announce that registration is now open. Please visit the conference website for more information on the scientific program, social events, schedule of dates and registration fees.
Primary research and mini reviews will be considered for poster or oral presentations for the 3-day summit. We also welcome residents of the American College of Veterinary Nutrition and the European College of Veterinary and Comparative Nutrition to contribute clinical mini-reviews and case reports for the Saturday symposium. Travel grants will be available for accepted presenters, as well as awards for the best presentations. Stay tuned as more information on opportunities to present will be released in the New Year.
If you want to know more about the conference, please check out the conference web site or e-mail us at gansg2020@uoguelph.ca.