ASAS Membership
Gerald L. Stokka, DVM, MS
Associate Professor, Extension Veterinarian/Livestock Stewardship Specialist
North Dakota State University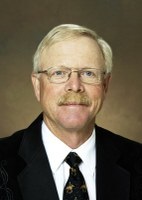 I am currently a member of the NDSU Animal Science faculty as Associate Professor. My position is Extension Veterinarian/Livestock Stewardship Specialist. I have responsibilities in providing state-wide leadership to our extension system, producers and veterinarians to be a resource for information and applied research regarding all aspects of livestock health, best practices, behavior, well-being, handling, and animal-environmental interactions, although primarily focused on the beef cattle industry. In addition, my mission is to articulate livestock husbandry and production/sustainability practices to agriculture and non-agricultural audiences.
Before I joined the faculty at North Dakota State University in 2012, I spent seven years in private practice in Cooperstown, N.D., with the Cooperstown Veterinary Clinic, which was widely recognized for its services and customer focus. In 1989, I moved my family to Manhattan, Kansas, as I was accepted into a residency program and began an advanced degree in beef cattle production medicine at Kansas State University. After earning my master's degree, I became an assistant professor, Feedlot Specialist with Kansas State in the department of clinical sciences, where I worked from 1992 to 1995.
From this position I advanced and became a member of the Kansas State University Animal Science department to become associate professor and the Kansas State University Beef Extension veterinarian. It was at this time I became a member of ASAS. This change for me was the best experience I could have imagined. The animal science department at Kansas State is held in high regard by the beef industry across the country and in the state. The majority of stakeholders in Kansas are alumni and the contacts and relationships I made during that time are invaluable. It also greatly expanded my knowledge base as a veterinarian with research, extension and teaching colleagues in nutrition, reproductive physiology and meat science. In addition, my experiences in the stocker and feedlot sector during that time have provided me a perspective on our industry that I highly value.
In 2001 I joined the Pfizer Animal Health (now Zoetis) Veterinary Technical Services team. With experience in both private practice and academic instruction, I was recognized for multifaceted expertise in beef cattle production medicine. I have worked with feedlots, stocker operations and cow-calf operations throughout the Midwest and Great Plains, and have had the opportunity to speak extensively throughout the U.S. to veterinarians, feedlot managers, ranchers, animal scientists and consumer audiences.
Since 2012, I now have animal science colleagues here at NDSU. I am a part of a team of research and extension efforts as well as guest lecturing in a number of beef production and health classes. I have maintained and value my membership in ASAS all through these changes and new challenges. The opportunity to publish along with colleagues in JAS with its high standards is a privilege. I have also been involved in multidisciplinary programming regarding the topic of "Antimicrobial Stewardship", which included an extension signature program of the Veterinary Feed Directive (VFD). Through an FDA grant I have provided educational programming and kept my animal science colleagues abreast of information on the proper use of antibiotics, diagnosing illness in cattle, low stress handling, tissue residue avoidance and record keeping. In addition, these efforts also encompass the "One Health" initiative, which acknowledges the linkages between human and animal health.
I received my bachelor's degree in animal science from North Dakota State University, 1977 and earned my doctor of veterinary medicine degree from Iowa State University, 1982.