In Memory of Connie Kercher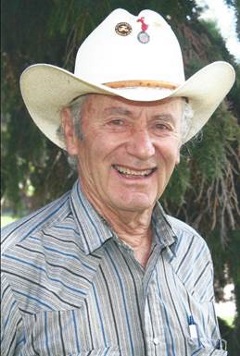 Connie Kercher was called to his heavenly home to be with Jesus on January 22, 2020. He was born June 17, 1926, in Yakima, Washington, and lived there for two years before moving with his parents George and Anna to a ranch near Bridger, Montana. In addition to helping on the ranch, he was active in 4-H and F.F.A. projects. In May 1944, he graduated from Bridger High School with valedictorian honors. Connie worked at the ranch until he was drafted in February 1945. He was top of his Naval Radio School class and served one and one-half years in the Navy. He has two brothers, Les and Dan and one sister Carol Simmons.

On September 7, 1946, Connie married Lydia Zier and began his studies at Montana State College in Bozeman. After graduating in 1950 with a BS in Animal Husbandry, Connie began his graduate studies at Cornell University in Ithaca, New York, receiving both a masters and Ph.D.

Connie began his career as Assitant Professor of Animal Nutrition at University of Wyoming in 1954 and was then promoted to Professor. Connie taught animal nutrition courses and conducted research in nutrition. He served as acting UW Vice President for Academic Affairs from January 1975-June 1976 and as Animal Science Department head from 1987-1988. In 1971, Connie spent six weeks as an AID consultant in Afghanistan and also visited many research facilities in Europe and Asia.

Connie has authored numerous abstracts of scientific and proceedings papers, extension and experiment station publications, research and extension field day reports, beef cattle short course talks and miscellaneous reports. He received the O.D.K. Outstanding Instructor Award, 1961; the Alpha Zeta Outstanding Instructor in the College of Agriculture, 1962; the Outstanding Teacher of Undergraduates Award by the Amoco Foundation, 1973; and the Humphrey Distinguished Faculty Award, 1994. Connie was selected as a Fellow of the American Society of Animal Science, July 1985; received the Distinguished Service Award, Western Section, American Society of Animal Science, 1988; and was listed in the Outstanding Educators of America and The National Register of Prominent Americans and International Notables publications. He served as Secretary/Treasurer, Vice President and President of the American Society of Animal Science, 1974-1980. After a highly successful career, Connie retired in July 1996.

Although Connie's achievements and service to the teaching profession were important, he knew that the blessing of faith in his Savior Jesus Christ was the foundation of his life. Connie and Lydia built their marriage and family on that faith. Connie started his service to the Lord on the Wyoming District Lutheran Layman's League Board followed by the International Lutheran Layman's League Board of Governors, 1965-1969. In later years he served on the Missouri Synod Lutheran Church Board of Higher Education and was on the Board at the Seminary in St. Louis, Missouri. He was active in his home church, Zion Lutheran.

Connie is survived by his wife, Lydia; four daughters, Kathryn (John) Link, Nina (Mark) Williams, Jane Kercher, and Kise (Todd Eads) Kercher; grandchildren Jamie, Andrew, Andrea, Tyler, Joel, and Matthew; great grandchildren: Makyna, Hadley, Branch, Willow, Noah, Kai, Milo, and Lydia.

Visitation will be held from 5-7 p.m. Friday, January 31, 2020, at Montgomery-Stryker Funeral Home.

Funeral Services will be held at 10 a.m. Saturday, February 1, 2020, at Zion Lutheran Church. Interment will follow at Greenhill Cemetery with Military Honors by the United States Navy and the Laramie Veterans Honor Guard.

Memorial contributions may be made in Connie's name to Zion Lutheran Church, The Laramie Plains Museum and/or charity of one's choice.

Services are under the direction of Montgomery-Stryker Funeral Home. Go to www.montgomerystryker.com to send condolences or to sign the online guestbook.