Companion Event I: Olbrich Botanical Gardens
Don't miss out on the some of the fun events happening during the 2020 ASAS-CSAS Annual Meeting in Madison, WI.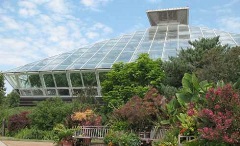 July 20 - 1:00 PM – 4:00 PM – ticket price includes transportation and guided garden tour. Join us for an afternoon stroll through 16 acres of outdoor gardens, including the only Thai Pavilion in the continental U.S.! Featuring an indoor tropical paradise too.