Don't Miss Out!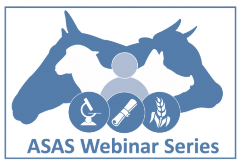 Did you miss the fourth installment of the ASAS Webinar Series, Challenges and Opportunities of Courses Moving Online-a Student's Perspective with panelists Joslyn Beard, University of Nebraska; Russell Carrell, Auburn University; Emily Melchior, New Mexico State University; Pedro Carvalho, Penn State University and Brooke Clemmons, University of Tennessee?
Here is a link to the webinar recording, https://vimeo.com/405816677
We just finished the fifth "live" ASAS Webinar Series, Genetic control of thermotolerance in cattle at the whole-animal and cellular level focusing on Randel Lectureship speaker, Dr. Peter Hansen's talk from the 2020 Southern Section Meeting in Chattanooga. Look for weekly webinar announcements as we continue our increased webinar options during this time of COVID-19 in-person restrictions. Recordings will be released after each webinar for the previous webinar in the ASAS Webinar Series.