Global Animal Nutrition Summit 2020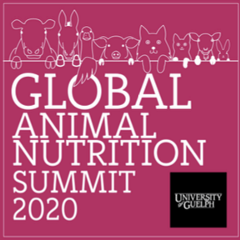 FOURTH CALL: GANS IS GOING VIRTUAL, ABSTRACT SUBMISSION DEADLINE EXTENDED
These are for sure unprecedented times. We are becoming more and more realistic that even if physical distancing measures in relation to COVID-19 are lifted locally, international travel and international events will be restricted this summer. We are still hopeful to host a smaller group of domestic attendees at the University of Guelph for the first Global Animal Nutrition Summit from August 11 to 15, 2020 in Guelph, ON Canada. However, the next weeks are crucial.
As an alternative, the organizing committee decided to launch a virtual event. This way we can still deliver on our goals to create a global venue for veterinary nutritionists and animal nutritionists to share animal nutrition research, to increase visibility of the nutrition organizations and to provide a source of science based information about animal nutrition to veterinary health care teams and veterinary paraprofessionals. Details will become available closer to the event.
As this information may change your mind about abstract submission, the organizing committee has decided to extend the deadline for abstract submission one last time until APRIL 30, 2020.
We are still welcoming primary research and mini reviews through Easychair for the August 12-14, 2020 Summit "What Does the Future Hold for Feeding Animals" as well as clinical mini-reviews and case reports for the August 15, 2020 Symposium "Fueling Wellness – Developing Your Animal Nutrition Tool Kit".
More info about abstract submission can be found on our website: https://globalanimalnutrition2020.uoguelph.ca/abstract-submission/
Also be advised that the registration website has been update to also include fees for virtual attendance.
Please check the frequently asked questions page on our website regularly for updates or contact us by e-mail at gansg2020@uoguelph.ca if you have any questions.
Stay safe and healthy!
Sincerely, the GANSG Local Organizing Committee
Dr. Adronie Verbrugghe
Dr. Anna Kate Shoveller
Dr. Sarah Abood