Don't Miss Out!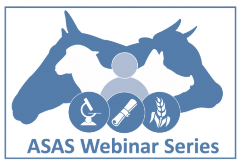 Did you miss the last ASAS Webinar: Ensuring the USA has a leading role in providing animal protein for the world's food future, with Dr. Jack Britt?
Here is a link to the webinar recording, https://vimeo.com/413242605
Look for weekly webinar announcements as we continue our increased webinar options during this time of COVID-19 in-person restrictions.