ASAS would like to congratulate all the award recipients at the 2020 ASAS-CSAS-WSASAS Virtual Annual Meeting and Trade Show. Meet the speakers of Thursday's award presentations below.
Make sure to click on the link to watch their acceptance video!
L.E. Casida Award - Dr. George E. Seidel, Colorado State University
Sponsored By: L.E. Casida Award Fund

Dr. George Seidel, Jr was raised on a dairy farm in Pennsylvania and currently owns a cattle ranch, which illustrates his love for cattle. He earned the PhD in reproductive physiology at Cornell University (1970) with graduate research on bull development and ejaculation and deriving embryos from oocytes obtained from young calves. He then was an NIH post-doctoral fellow and studied mechanisms of meiosis at Harvard University. In 1971, Dr. Seidel joined CSU as an Assistant Professor and was promoted to Professor in 1983 and was named a University Distinguished Professor in 1993 for his stellar research and graduate training program in bovine gamete and embryo biology. He has received numerous awards, including being named as a member of the National Academy of Sciences, and one of the most influential people in the development of the US beef industry. He published 218 refereed papers, 25 books, 189 chapters and trained 40 postdoctoral, 15 PhD and 25 MS students.
Dr. Seidel's Acceptance Video
Title:Graduate education often occurs in both directions - Triennial Symposium II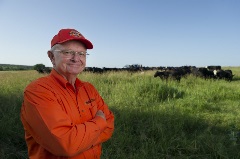 L.E. Casida Award Fund - Dr. Robert P. Wettemann
Sponsored By: L.E. Casida Award Fund
Dr. Robert P. Wettemann obtained a B.S. at the University of Connecticut, and a M.S. and Ph.D. (1972) at Michigan State University. He was appointed assistant professor in the Department of Animal Science at Oklahoma State University in 1972, and is a Regents Professor Emeritus. His research focus is endocrine mechanisms controlling reproduction in cattle and mentoring graduate students. This research established use of body condition to evaluate supplemental feeding of beef cows and that hypothalamic-pituitary dysfunction causes anestrus. Dr. Wettemann has been the major advisor for 27 M.S. and 20 Ph.D. students; 23 students are, or were, on faculties of universities. He has coauthored more than 650 scientific publications. He received the Physiology and Endocrinology Award, the Animal Management Award, the Distinguished Service Award by the Southern ASAS, was President of ASAS and ARPAS, and is an ASAS Fellow. He and his wife, Grace, have one son, two daughters, and five grandchildren.

Dr. Wettemann's Acceptance Video
Title: Graduate Education in Reproductive Physiology - Triennial Symposium II