Stopping Pathogens

Learn more about what you can do to help stop the spread of germs.
In addition:
Become a Jr. Animal Scientist!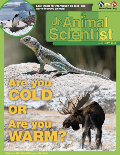 Sign your child/students up to be Jr. Animal Scientists! This membership from the American Society of Animal Science (ASAS) is a great way for kids to learn about science and the animal world.
Through the Jr. Animal Scientist magazine and special online resources, kids can learn about pets, farm animal and zoo animals. Scientific information is tailored for kids 5 to 12. Eye-catching photos and exciting animal activities add to the fun! Plus, all Jr. Animal Scientists get special prizes just for joining.
School and Club memberships geared toward students in grades K to 7 are also available. Students in grades 8 to 12 can find animal science resources on AnimalSmart.org or in the magazine Animal Frontiers.
Sign your child/student up today here.