Interpretive Summary: Evaluation of warm season annual forages for forage yield and quality in the north-central United States
By: Dr. Emily Taylor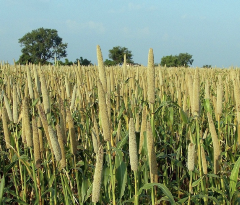 Consumer preference has changed drastically in the last decade with a large shift towards locally grown produce. Within this shift, dairy products being produced from management systems utilizing grazing is often preferred. This shift is driven by factors including alteration of fatty-acid composition, and the associated implications for human health and nutrition. Therefore, grazing-based dairy operations require high-quality, productive forages to maintain the nutritional needs of cows in mid-lactation.
In the northern-central United States, perennial cool-season grasses are common pasture choices, however, leave the producer in need of a better forage source during the summer months. Therefore, drought-tolerant, annual warm-season grasses that are fast-growing, productive forages with suitable nutritive characteristics may mitigate this slump for producers.
The objectives of this recent article published in Translational Animal Science were to address an information gap on the production, nutritive value, and suitability for grazing of warm-season cultivars in the north-central USA. Specifically, researchers took weekly harvests during 2016 and 2017 of two bmr cultivars of sudangrass and sorghum-sudangrass, as well as one bmr and one non-bmr pearl millet cultivar, for growth and nutritive characteristics within the context of suitability for grazing dairy heifers or cows.
Although taller-growing cultivars within each forage type exhibited yield advantages over shorter-growing cultivars, the shorter cultivars exhibited greater percentages of leaf, which is especially relevant within a grazing application. Pearl millet cultivars specifically, exhibited shorter canopy heights and greater percentages of leaf than other cultivars. Also, the greater leaf percentages for pearl millet cultivars did not result in reduced percentages of structural plant fiber on a whole-plant basis, and ISNDFD was significantly greater for pearl millet when compared to the other cultivars.
In conclusion, within the context of suitability for grazing dairy heifers or cows, pearl millet cultivars generally exhibited more suitability characteristics for grazing livestock than sudangrass or sorghum-sudangrass cultivars. However, authors caution the reduction in yield of pearl millet and management choice will likely require a compromise.