Dr. Harold Hafs, 89, passed away on March 4, 2021. Born on his family's farm in Wisconsin, where farm implements were still drawn by draft horses, Harold Hafs went on to become a nationally prominent advocate for animal science research, education, and product development.
Hafs was a pioneer in developing techniques to freeze semen and synchronize estrus in cattle, with over 324 published papers and abstracts. He published extensively on pituitary and hypothalamic control of reproduction, and was a major contributor to understanding pubertal development. He accepted professional responsibilities with ASAS, ADSA, and SSR. In ASAS, he received the Fellow Award and Retiree Service Award, he initiated peer reviews of abstracts for the Physiology and Endocrinology section, served on the Board of Directors, and was a founding member and chair of the Foundation Board of Trustees. He also contributed his expertise for NIH, FDA, NRC, NAAB, and USDA.
As chair of the Department of Dairy Science at Michigan State University, and later, of the Department of Animal Sciences at Rutgers University, Hafs' teaching and mentorship influenced the lives of numerous graduate students, many of whom have gone on to make significant contributions of their own. As vice president for Animal Science at Merck, he led research and development of fourteen FDA-approved pharmaceuticals, which have improved the health and vigor of many millions of agricultural and companion animals worldwide. Late in his career, Hafs coordinated the Animal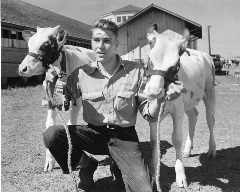 Science Education Consortium of 15 institutions in the Northeast and Mid-Atlantic region, creating digital image galleries at the National Agricultural Library to enhance teaching in the animal sciences nationally.
Throughout his career, Hafs valued opportunities to spend time in the field. He especially enjoyed talking with farmers, who reminded him of his own beginnings in agriculture. In retirement, when asked how he would describe what and who he was, he replied without hesitation, "a farmer".
Dr. Hafs full obituary is available online.