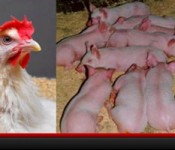 Congratulations to a team from UC Davis, whose video "Were Those the Days, My Friend" received the most votes in the first-ever ASAS Video Competition. Their video on the impact of production efficiency and biotechnology will be shown at the awards ceremony at the ASAS Joint Annual Meeting in Phoenix this July. The team  will also receive the first place prize of $1,250. This video was written and directed by UC Davis cooperative extension specialist Alison Van Eenennaam, with photos collected by UC Davis students Kristina Weber and Kevin Au. Vocals on a song cover were supplied by Ramona Swenson. Watch the video!
In second place was a group of students from New Mexico State University. Their video titled "How NMSU's Animal & Range Science Department is Feeding the World" highlighted the animal agriculture programs and outreach at NMSU. They will receive $750. Watch the video!
In third place was a group from Purdue University. Their video titled "Animals and Food Security in Haiti" featured stories from students who traveled to Haiti to help with animal agriculture programs. They will receive $500. Watch the video!
Overall, the videos in the contest received 11,357 views during the one-month voting period. This was a great step toward the ASAS goal of sharing the importance of animal science with the public. Thank you to everyone who entered or took the time to vote. The videos are featured on the ASAS YouTube channel. Watch them now!