Written by Jacquelyn Prestegaard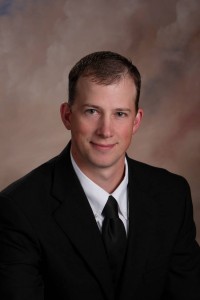 When it comes to the success of young scientists, innovation is key. Dr. Eric Scholljegerdes, assistant professor at New Mexico State University, encourages aspiring researchers to think outside of the box.
Scholljegerdes is the winner of the 2014 WSASAS Young Scientist Award. He will be honored at the 86th Annual Western Section Meeting in San Angelo, TX.
He earned his B.S. degree at the University of Missouri-Columbia where he studied animal science.
"I always had an interest in science, and was very curious about how things worked," said Scholljegerdes. "It was through an undergraduate work-study job I found my passion for ruminant nutrition."
He pursued his M.S. and Ph.D. ruminant nutrition from the University of Wyoming. Afterward, he accepted a position as Research Animal Scientist at the USDA-ARS Northern Great Plains Research Laboratory in Mandan, ND.
In 2010 he joined the faculty of the Animal and Range Sciences Department at NMSU. He teaches Beef Production, Ruminant Nutrition, Advanced Cow/Calf Stocker Nutrition, Range Nutrition Techniques, and Graduate Seminar. Plus, he currently has two Ph.D. students and four Master's students working under him.
He is the steering committee chair of NMSU's Corona Range and Livestock Research Center, where he conducts a variety of research studies. One of his outstanding projects regards maternal supplementation during early gestation of beef cattle.
Scholljegerdes said in order for future ruminant nutrition scientists to be successful, "you have to be creative with your way of thinking."
The rise of drought conditions and feed prices puts a great deal of stress upon livestock producers, whom Scholljegerdes refers to as scientists' "clientele."
"We need to conduct studies which figure out how producers can most efficiently utilize their economic resources," indicated Scholljegerdes. "To really move into the future, we need to be more innovative with what specific nutrients to supplement, and during which stage of production to provide those nutrients."
Using connections wisely is also essential to designing good research projects, he said.
"Interact with seasoned scientists. Having mentors will help you be proactive and additionally nurture your thought process."
Scholljegerdes serves on numerous university and professional committees, including the WSASAS Graduate Student Competition Committee and the WSASAS Advising and Coordinating Committee. He also served as a member of the Editorial Board for the Journal of Animal Science, as Associate Editor the Journal of Animal Science, and he currently serves as Associate Editor for the Journal of Rangeland Ecology and Management. Additionally, Dr. Scholljegerdes has served on a review panel for the USDA-NIFA Food Security and Animal Losses Program. Eric and his wife Bridget have a daughter, Ellie.