Written by: Jacquelyn Prestegaard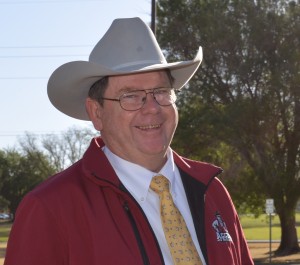 Service in the animal science world can come in the form of leadership, teaching, or research. Dr. Timothy Ross, head of New Mexico State University's Department of Animal and Range Sciences, contributes in all of these areas.
This Arkansas native is the winner of the 2014 WSASAS Distinguished Service Award. He will be honored at the 86th Annual Western Section Meeting in San Angelo, TX.
Ross joined the faculty at NMSU in 1982. Since then he taught classes such as Introduction to Animal Science, Environmental Physiology of Domestic Animals, Dairy Production, and Sheep and Wool Production. He additionally trained 28 M.S. and 13 Ph.D. students.
"The interaction with students is absolutely the best part about teaching," said Ross.
Outside of the classroom, he coached the NMSU Wool Judging Team periodically throughout the past 32 years. The team has been very successful throughout the years, including a win at the 2005 National Western Stock Show.
Ross said that he has 41 years' experience working with sheep, which initially began with his Master's project at University of Arkansas. His research involves reproductive wastage and early embryonic survival in ovine.
He is the co-author of 44 journal articles, 87 Western Section proceedings papers, and over 100 abstracts. Plus, Ross served on the editorial board for the Sheep and Goat Research Journal, as well as the Egyptian Journal of Nutrition and Feeds.
His leadership in WSASAS is outstanding, having served as secretary, treasurer, vice president and president.
Even though he is retiring this year, Ross will continue his service to the region.
"I plan to stay active in the Western Section," said Ross. "I will also be returning to NMSU in the fall to teach the freshman class."
Dr. Ross resides in Las Cruces, NM with his wife, Paula. They have 4 children and 3 grandchildren.
The Distinguished Service Award is presented to WSASAS members who make outstanding contributions to the broad field of Animal Science. Selection is based upon total achievement in areas such as teaching, research, extension, national and regional ADSA/ASAS activities and effectiveness of the candidate's efforts.