Written by Jacquelyn Prestegaard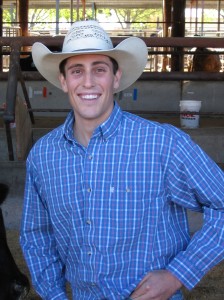 Superior genetics and cattle health are paramount in the beef industry. Bryan Welly, M.S. student at University of California-Davis (UC Davis), makes significant research advances in these areas.
Welly is one of WSASAS' Young Scholars Recognition Program recipients. He will be honored at the 86th Annual Western Section Meeting in San Angelo, TX.
He found his passion for beef cattle while growing up working on his relatives' cattle ranch in Utah. A Southern California native, he completed his B.S. in Animal Science at California Polytechnic State University, San Luis Obispo (Cal Poly).
As a manager of Cal Poly's Bull Test he taught students proper low-stress handling techniques and animal evaluation skills. The enterprise gives undergraduates experience identifying superior phenotypic characteristics in bulls.
"It's a student-run operation that compares the growth of bulls based on average daily gain over a five-month interval," said Welly. "The top 50% of the bulls are then selected for an annual sale."
His involvement at Cal Poly led him to pursue a M.S. in Genomics at UC Davis with Dr. Van Eenennaam. He focused on researching the bacterial genome that causes Epizootic Bovine Abortion. The tick-borne disease only affects cattle in California, Oregon and Nevada. Welly's studies centered on developing a vaccine for the illness, which is the region's leading cause of beef abortion.
Bryan will return to UC Davis to pursue a Ph.D. under Dr. Van Eenennaam. He aims to develop and establish the value of a genomic breeding program for a vertically integrated commercial beef production system.
Welly is also active with the California Cattlemen's Association and recently spoke at their annual convention. He emphasized the importance of industry involvement for career success.
"Don't be afraid to get involved with different organizations, and take advantage of opportunities to help producers with different projects," said Welly.
During his career Bryan to intends to help ranchers make genetic advancements in their herds. He plans to accomplish this through applied research in genomics and breeding program design.
The Young Scholars Recognition Program acknowledges the research accomplishments of current and/or recent Ph.D. and M.S. students in the Western Section of ASAS. Scholars provide an abstract and proceedings paper and give a 30-minute invited presentation about their graduate program at the Western Section meeting.