Written by Jacquelyn Prestegaard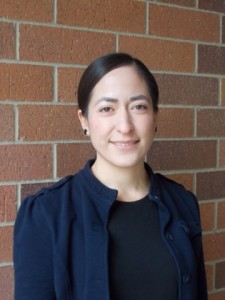 Dr. Leticia Camacho's interest in animal science ignited while growing up in a small agricultural community in Mexico.
Camacho is one of WSASAS' Young Scholars Recognition Program recipients. She was honored this week at the 86th Annual Western Section Meeting in San Angelo, TX.
Camacho received her B.S. in agronomy with emphasis in animal husbandry from the University of Baja California, Mexico in 2007. During her undergraduate program she completed two internships. First she completed an undergraduate research project under the direction of Drs. Dennis Hallford and Sergio Soto-Navarro at New Mexico State University (NMSU). Her second internship took place at the University of California Cooperative Extension Center in Imperial County where she worked under direction of Dr. Richard Zinn.
In 2009, Camacho received her M.S. in animal science with emphasis in physiology of reproduction from NMSU under Dr. Dennis Hallford. Her M.S. project examined the use of recombinant bovine somatotropin (rBST) in Rambouillet ewes before breeding and its effects on pregnancy rates and serum hormone profiles.
Camacho recently received her Ph.D. in reproductive physiology under direction of Dr. Kimberly Vonnahme at North Dakota State University. Her dissertation work focused on effects of maternal nutrient restriction followed by realimentation during early and mid-gestation on uterine and umbilical blood flow and conceptus development in beef cows.
Currently, Camacho is a postdoctoral research associate at The University of Arizona under mentorship of Dr. Sean Limesand.
She has been actively participating in research projects since 2002 when she was an undergraduate. Her efforts in research have led to 12 peer-review publications (4 as first the author), 19 proceedings papers, 50 abstracts, and 1 funded research grant. Camacho also served as WSASAS' Graduate Student Director and was one of the recipients of the Wilson G. Pond Appreciation Club International Travel Award in 2012.
Upon completion of her postdoctoral training, Camacho plans to secure a research position in either academia or industry.
The Young Scholars Recognition Program acknowledges the research accomplishments of current and/or recent Ph.D. and M.S. students in the Western Section of ASAS. Scholars provide an abstract and proceedings paper and give a 30-minute invited presentation about their graduate program at the Western Section meeting.