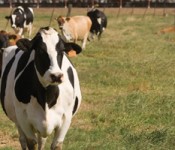 Written by: Jacquelyn Prestegaard
The rumen is the largest component of cattle's digestive tract, playing host to a plethora of bacteria essential to feed digestion.  Ruminant Nutrition Symposium titled, "The Rumen Microbiome and Nutritional Health and Production," will focus on how to use bacterial data for study of the rumen microbiome, impacts of microbes on health and production, and methods of decreasing methanogenesis in ruminants. The symposium will take place next week at the 2014 Joint Annual Meeting.
To kick off the symposium, Dr. Gregory Penner, assistant professor at the University of Saskatchewan, will give a presentation about the symbiotic relationship between the ruminal microbiome and animal health. He will elaborate on methods used to better understand the relationship between microbial phyla and animal wellness.
Ruminant livestock currently accounts for 40-45% of greenhouse gas emissions. Understanding genomic pathways is extremely important in identifying ways to reduce methane emissions produced by these animals. Dr. Tim A. McAllister, Principal Research Scientist of Ruminant Nutrition and Microbiology at Agriculture and Agri-Food Canada, will further discuss this topic in his presentation, "Use of genomics and transcriptomics to identify strategies to lower ruminal methanogenesis."
The third presentation of the symposium will focus on ruminal effects of dietary fat in Condensed Corn Distillers Solubles (CDS.) Joshua C. McCann, Ph.D. student at the University of Illinois, will be the speaker of this presentation. He will explain the effects of a nutritional study of five ruminally fistulated steers fed differing levels of CDS containing varying percentages of dietary fat.
Dr. Shucong Li, research associate at the University of Manitoba, will provide a perspective on dairy calves. His presentation is titled, "The microbiome composition of the hindgut is altered following weaning in dairy calves: impact of different weaning strategies." Li will discuss effects and methods of step-down weaning and abrupt weaning on the compositions of fecal microbiota.
Wrapping up the symposium will be Hamidreza Khazanehei, Ph.D. student at the University of Manitoba. He will be discussing "Effects of different dry period managements on rumen microbiome composition." His study consisted of twenty-four Holstein cows randomly assigned to one of two treatments, which featured different diets and dry-period lengths.
"Ruminant Nutrition: The Rumen Microbiome and Nutritional Health and Production" will be held Monday, July 21, 2014 from 2:00 pm – 5:00 pm in Room 2103B of the Kansas City Convention Center.
Media Contact:
Jacquelyn Prestegaard
Science Communications
jacquelynp@asas.org