Written by: Jacquelyn Prestegaard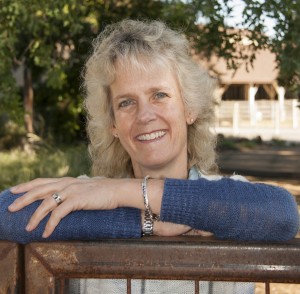 Agricultural biotechnology is one of the most discussed topics of today. Dr. Alison Van Eenennaam is one of the world's premier voices in the field.
She is the winner of the 2014 ASAS Extension Award, an honor given to individuals who stimulate outstanding achievements in animal science extension. Van Eenennaam was recognized at the 2014 ASAS-ADSA-CSAS Joint Annual Meeting in Kansas City on July 21.
Researchers had not yet begun the initial sequencing of the bovine genome when Van Eenennaam began her research. In fact, biotechnology was just emerging as a science when she began her education.
"I saw just how much promise genetic engineering had to become an innovative technology," Van Eenennaam said. "That's how I became interested in the field."
She received a B.S. in Agricultural Science from the University of Melbourne. She then went on to receive a M.S. in animal science and a Ph.D. in genetics  from the University of California, Davis in Animal Science and , respectively.
She is now the Animal Genomics and Biotechnology Cooperative Extension Specialist at UC Davis. The main focus of her lab concerns the use of DNA-based biotechnologies in beef cattle production.
In addition to conducting her own research, Van Eenennaam strives to provide the public with science and technology education. Her extension materials reach a wide variety of audiences ranging from the average consumer to advanced researchers. She has provided science information for national media, the Sierra Club, and even made an appearance on the Dr. Oz television show.
Van Eenennaam said to teach others about genetic technologies it is important to keep the specific target audience in mind.
"If you are communicating with an audience that isn't familiar with bioengineering, it is most effective to show how the technology is helpful and relevant to them," Van Eenennaam said. "Tell a story to which they can relate in a context they can understand."
She and her husband Joel have two sons, Kyle and Alec.
The American Society of Animal Science Extension Award is presented to members who have outstanding and noteworthy contributions in animal science extension. Contributions may be in initiation and development of programs and projects in animal production or utilizable products of the animals. The American Society of Animal Science is a professional organization that serves more than 5,000 animal scientists and producers around the world.
Media Contact:
Jacquelyn Prestegaard
ASAS Communications
jacquelynp@asas.org