Written by: Jacquelyn Prestegaard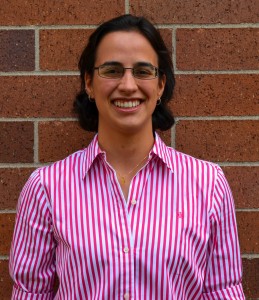 Ligia Prezotto has life experience with livestock of all sorts. She plans to use that knowledge for a career she is passionate about.
Prezotto is the winner of the 2014 Agri-King Outstanding Animal Science Graduate Student Award. The honor is given to recognize the achievement of an outstanding graduate student working toward ASAS's mission to foster the discovery, sharing and application of scientific knowledge concerning the responsible use of animals to enhance human life and well-being. She was recognized at the ASAS-ADSA-CSAS Joint Annual Meeting in Kansas City on July 21.
Prezotto grew up in Brazil helping on ranches that operated on both sides of her family.
"My mom's side worked with dairy production and my dad's side worked with beef production," Prezotto said.
She obtained her B.S. in animal science at University of Sao Paulo-Brazil in 2007. As an undergraduate student who was interested in animal research she had the opportunity to work on a project investigating nutritional physiology in horses. It examined the metabolic responses and digestibility of various energy sources for athlete horses. It additionally explored various sources of energy and the absorption of minerals in foals.
In 2012, Prezotto completed her M.S. degree in physiology of reproduction at Texas A&M. Her research there focused on control of luteinizing hormone release in mares. She was additionally involved in endocrinology research in horses, cattle and sheep.
Prezotto currently attends North Dakota State University as a Ph.D. student. There she is involved in research investigating the effects of maternal nutrition during gestation on fetal and offspring energy utilization and hypothalamic development in ruminants.
After receiving her Doctorate, she wishes to continue working in reproductive research. She is currently applying for several research jobs in the United States.
"I hope my work will someday benefit the production side of the industry," Prezotto said.
She is also a current member of the graduate student organization at NDSU and the Endocrinology Society. She is a former member of the Society for the Study of Reproduction. Prezotto expects to receive her Ph.D. in 2015.
The winner of the Agri-King Outstanding Animal Science Graduate Student Award receives a two-year complimentary membership in ASAS, registration for JAM, a $1500 award and plaque, and recognition during the ASAS Awards Ceremony at JAM. The American Society of Animal Science is a professional organization that serves more that 5,000 animal scientists and producers around the world.
Media Contact:
Jacquelyn Prestegaard
ASAS Communications
jacquelynp@asas.org