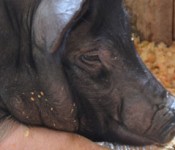 Written by: Jacquelyn Prestegaard
Beef and pork producers are well aware of the increasing global demand for their product. They also know their feed and land resources are exponentially shrinking. For them, modern agricultural technologies are a necessity to keep reasonably priced meat on consumers' plates.
One of these essential technologies comes in the form of beta-adrenergic agonists, commonly referred to as beta-agonists or BAA's. Beta-agonists are feed additives given to market hogs and cattle to maximize feed efficiency. They work by more effectively converting feed intake to lean muscle growth.
BAA's come in two forms: Zilpaterol Hydrochloride (Zilmax), used exclusively in cattle, and Ractopamine Hydrochloride, used in both cattle and swine (Optaflexx and Paylean, respectively). Because they so dramatically improve animal growth, the use of these feed additives raise many questions from consumers and producers alike.
"Beta Agonist Symposium: What the Data Say" was held during the ADSA-ASAS-CSAS Joint Annual Meeting in Kansas City on July 20. The Pre-conference was designed to move away from the hype and focus on the raw, clear-cut data about BAA's. Livestock professionals around the country provided both scientific and industry perspectives on the subject.
Dr. Todd See, professor and Department Head of Animal Sciences at North Carolina State University, discussed live and carcass traits of hogs fed Paylean. His meta-analytic study shows an increase of 12 percent in average daily gain of treated swine. There are also increases in hot carcass weight, 10th rib backfat, loin muscle area and fat free lean at varying ractopamine concentrations. All of this occurs with lower average daily feed intake.
"From a growth and carcass performance standpoint, beta-agonists work," See said. "[Incorporating Paylean in the diet] produces leaner, heavier-muscled hog carcasses."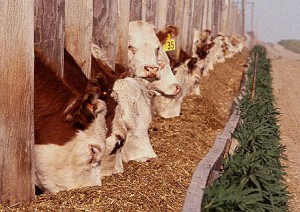 Dr. Ryan Rathman, assistant professor at Texas Tech University, spoke about a similar meta-analysis regarding beef cattle. Zilmax and Optaflexx were compared and had similar effects. Implementing beta-agonist use increased feed to gain efficiency between 15 and 30 percent. He also emphasized a "very impressive" 10 percent improvement in final yield grade of the beef. Stress level was also researched by calculating rates of speed cattle exited chutes.
"We saw that the body is more able to respond to stress, [particularly] early in the treatment period," Rathman indicated.
Dr. Kendall Karr, nutritionist for Cactus Feeders in Amarillo, Texas, provided an industry perspective on BAA use. Since 2004, Cactus Feeders has fed beta-agonists to over 8 million head of cattle.
He stressed that the U.S. cattle herd has dropped 3.7 million head since 2008. Drought, land use and the high cost of staying in the beef business are all contributors to the decline. Without beta-agonists, Cactus Feeders alone would have to feed 40,000 more cattle per year.
"Beta agonists are very well-researched, safe for people and animals, and conservative of resources," Karr emphasized. "They are extremely important to the viability of the beef industry."
Other topics covered during the symposium include muscle fat and biology, carcass transfer and composition, meat color and palatability, and trade barriers regarding BAA-fed swine and cattle. The session closed with a panel discussion by all speakers.
Media Contact:
Jacquelyn Prestegaard
ASAS Communications
jacquelynp@asas.org