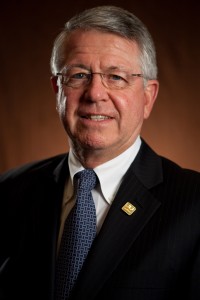 Written By: Jacquelyn Prestegaard
Fellows of the American Society of Animal Science are recognized for having more than 25 years of dedicated service to the organization. Dr. Donald Orr far exceeds those expectations.
Orr was recognized as an Industry Fellow of ASAS at the ASAS-ADSA-CSAS Joint Annual meeting in Kansas City.
He grew up on a farm in Tipton, Indiana. He received his B.S. in Animal Science at Purdue, his M.S. in Animal Industry at Penn State, and his his Ph.D. at Michigan State.
Orr is a former swine nutritionist at Central Soya, and former Director of the Swine Research Center at Texas Tech University. He became president of JBS United in Sheridan, Indiana in 1997. The company is one of the top animal health and nutrition agencies in the world.
In his 29 years at JBS United, Orr successfully helped grow its annual revenue to over $.5 billion in 2013. Under his leadership, the company developed a research and development team. It consisted of 17 Ph.D. and 28 B.S. and M.S. members who conducted swine and poultry nutrition research, enzyme and microbial nutrition, and swine decision models. Additionally, Orr successfully led his company in the development and marketing of FDA-approved feed phytase enzymes.
Overall, Dr. Orr is a distinguished feed industry leader. He previously served as the Chairman of the American Feed Industry Association and is currently on its Strategic Vision Team. He is also a board member of two global animal agribusinesses. Orr is eager to share his success with the next generation, teaching about his business strategy experiences with animal science college majors.
The ASAS Fellow Award is presented to animal scientists who have made excellent contributions to the animal industry and have had continuous membership in the ASAS for a minimum of 25 years. The American Society of Animal Science is a professional organization that serves more than 5,000 animal scientists and producers around the world.
Media Contact:
Jacquelyn Prestegaard
ASAS Communications
jacquelynp@asas.org