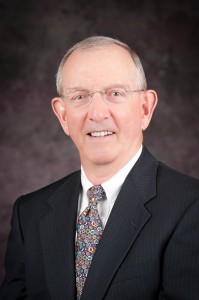 Written by: Jacquelyn Prestegaard
Dr. Melvin Hunt's work with meat quality changed important food safety standards in the United States. His contributions to the animal science and meat science industries led him to become a Research Fellow for the American Society of Animal Science. He was recognized for his research excellence at the annual ADSA-ASAS-CSAS Joint Annual Meeting in Kansas City.
Hunt received his B.S. and M.S. at Kansas State and his Ph.D. at University of Missouri. Currently, Hunt is a Professor Emeritus at Kansas State University. He is also the Chair of KSU's Food Science and Industry Undergraduate Program.
His research at KSU has focused on postmortem characteristics of meat, particularly factors affecting meat color and pigment chemistry. His research expanded the industry's critical understanding of meat quality. The discovery of muscles' inherent ability to utilize oxygen and to reduce metmyoglobin led to better use of meat cuts with suboptimal color stability, prevention of bone discoloration, and optimization of color in modified atmosphere packaging.
Of particular note was his work with the premature browning phenomena of ground beef and its significance to food safety. Based in part of his research, the USDA changed its public policy recommendations from using color as an indicator of ground beef doneness to that of endpoint temperature.
In addition to his recent recognition as an ASAS Research Fellow, Hunt has received many awards for teaching and research. He has been Chair of the Muscle Foods division of the Institute of Food Technologists, Chair of the Meat Science-Muscle Biology Section of ASAS, Chair of the Reciprocal Meat Conference, and President of the American Meat Science Association. He has also received ASAS and AMSA Distinguished Research Awards.
His accomplishments extend far beyond that of his own research. Serving as an advisor and professor, many of Hunt's former graduate students hold prominent positions in government, industry and academia.
The ASAS Fellow Award is presented to animal scientists who have made excellent contributions to the animal industry and have had continuous membership in the ASAS for a minimum of 25 years. The American Society of Animal Science is a professional organization that serves more than 5,000 animal scientists and producers around the world.
Media Contact:
Jacquelyn Prestegaard
ASAS Communications
jacquelynp@asas.org