Written by Jacquelyn Prestegaard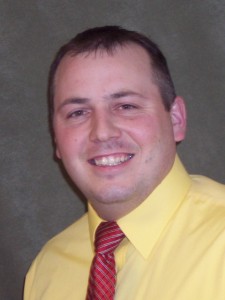 Achieving prominent career success is most often done after many years of practice. Dr. Jason Ross, who began his career at Iowa State University just six years ago, is already well distinguished in swine reproduction research.
Ross is the recipient of the 2014 ASAS Early Career Achievement award. He was honored at the Annual ADSA-ASAS-CSAS Joint Annual Meeting in July.
A native of Iowa, Ross grew up working with livestock. He attended Iowa State as an undergraduate.
"I actually didn't start out as an animal science major," Ross said. "I switched to animal science as a freshman, and during my junior year I became involved in research with Dr. Lloyd Anderson."
Ross then received both his Master's and Ph.D. at Oklahoma State University under Dr. Rod Geisert. Upon receiving his doctorate, he spent two years as a postdoctoral research fellow at University of Missouri with Dr. Randy Prather.
He joined the staff at Iowa State in August 2008, and is continuously active in teaching, research, and outreach. Ross has taught several classes, including Vertebrate Physiology, Reproductive Physiology and a lab course in animal reproduction.
Swine reproduction is the main focus of Ross's research program. He uses both basic and applied research approaches to test a variety of hypotheses. Specific studies include the epigenetic imprinting of offspring exposed to in utero heat stress, physiological regulation of puberty onset and seasonal infertility in pigs, and the use of pigs as animal models for disease and physiology. The USDA National Institute of Food and Agriculture, the National Pork Board, and the National Institute of Health fund these projects, respectively.
Now an associate professor at Iowa State, he currently advises one Master's student, two Ph.D. students and co-advises one other Ph.D. student. He plans to mentor many more in the years to come.
"My future career success reflects on the achievements of my trainees," Ross said. "I hope that those who come out of my lab go on to have successful careers conducting basic science research that impacts and influences the swine industry."
Ross has been author or co-author on 44 peer-reviewed publications and has been the principal investigator or co-investigator on 20 grants.
The ASAS Early Career Achievement award is given to recognize achievement of young scholars working toward the mission of the ASAS: "To foster the discovery, sharing, and application of scientific knowledge concerning the responsible use of animals to enhance human life and well-being." To be eligible the candidate must have completed their most recent degree within the past 10 years at the time of nomination. The American Society of Animal Science is a professional organization that serves more than 5,000 animal scientists and producers around the world.