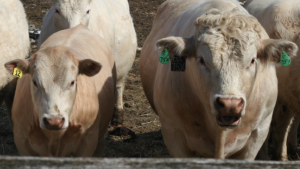 Water is the most essential nutrient to any livestock operation. It is also the most precious due to extensive droughts and declining groundwater availability.
This highly valued nutrient was the subject of a symposium at the Joint Annual Meeting held in Kansas City in July. During the symposium, Dr. Kenneth D. Casey, Associate Professor of Air Quality Engineering at Texas A&M AgriLife Research in Amarillo, gave a beef perspective on "Water usage at cattle feedlots and the potential for water conservation."
It emphasized the Texas High Plains region, a particularly dry area where thousands of cattle are raised. He said there is little potential to reduce cattle water consumption itself, so management of other water-using systems is essential.
"Virtually all of the water in the Texas High Plains region comes from the Ogallala Aquifer," Casey said. "The amount of water there is declining extremely rapidly, and its use is being exhausted economically."
Cattle can be particularly active at night when it is cool. During times of high activity large amounts of dust are released into the air. Because of these very dry conditions, many Texas feedyards use sprinkler systems to mitigate dust.
"These systems cost many thousands of dollars to install," Casey said. "In summer conditions, up to 8% of total fresh water use is a result of these systems."
In winter months, water troughs are set to overflow to prevent freezing. The water spills onto the ground and is "basically a complete loss of water due to evaporation." Casey says most operations use this overflow method because it involves less maintenance.
"While managing this sort of system is simple, the cost of obtaining and using water will certainly get [producers'] attention in the future," Casey said.
He says both dust mitigation and water overflow systems need to be reevaluated in a more environmentally friendly context. Several studies have been conducted to compare the cost and sustainability of alternative methods.
"Capturing, treating, and reusing overflow water has been shown to be cost-effective," Casey said. "The cost to the producer is the same as pumping new water on site, but it is certainly more environmentally sustainable."
Preserving water for dust mitigation is a more difficult task. Casey suggests careful and regular maintenance, assuring there are no leaks or faults in the system. Overall, it is the producers' responsibility to conserve their water use for both financial and environmental benefits.
"If you don't measure it, you can't manage it," Casey said. "It's important to measure, monitor, manage and certainly maintain any water system."
Read abstract #0434 "Water usage at cattle feedlots and the potential for water conservation."
Media Contact:
Jacquelyn Prestegaard
ASAS Communications
jacquelynp@asas.org