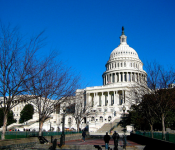 By Jacquelyn Prestegaard, ASAS Communications Intern
"Had I not [engaged] with multiple aspects of agriculture policy-making, I would have remained at my lab bench naively believing my work would one day impact policies," said Christopher Gambino, a 2012 ASAS Science Policy Intern. "My experiences in D.C…fostered relationships that still flourish to this day."
Five ASAS Appreciation club funds support science policy interns in Washington, D.C. each year. Four of these clubs' namesakes are professionals in Reproductive Physiology: Jack H. Britt, Louis J. Boyd, Robert G. Zimbelman and Harold D. Hafs. Along with the Barbara G. Glenn Appreciation Club, these clubs dedicate their funds to graduate and undergraduate students who want to have an impact on animal science on the political level.
It is the clubs' goal to show college students firsthand the importance of an active presence in politics and government. Since the Summer Science Policy Internship's beginning in 2010, 12 deserving college students (including 5 this year) have had the opportunity to travel to D.C. and shadow lawmakers. The namesakes of each club encourage seasoned and novice scientists alike to follow the lead of these students.
Not only do the following clubs do incredibly well to support animal science youth; they have contributed exceptional research to the world of Reproductive Physiology.
Harold D. Hafs Appreciation Club

Dr. Harold D. Hafs witnessed the beginnings of many reproductive technologies that are commonplace today. The former Chair of Rutgers University's Animal Science Department played a crucial role in developing products and techniques that are essential to reproductive efficiency.
One of the greatest triumphs in Hafs' research career occurred alongside Dr. Elwyn Willett on December 19th, 1950: the successful birth of the world's first embryo transfer calves. The first calves born using frozen semen was another monumental feat Hafs accomplished with his colleagues.
Hafs is very enthusiastic about the Science Policy Internship his appreciation club supports. He strongly believes in the importance of the voice of animal scientists in the Capitol.
"Animal scientists have expanded frontiers in fields other than their own," said Dr. Harold Hafs. "Why not ask them to optimize their relationships with state legislators and Washington?"
For more information on the Hafs Appreciation Club, visit the Foundation page.
Jack H. Britt Appreciation Club
Former chair of the ASAS Foundation, Dr. Jack H. Britt, is passionate of the future of animal scientists. He believes scientists' presence needs to be enhanced and recognized in order to better gain public trust and respect.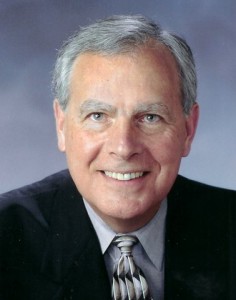 "We need to let those around us know that practicing scientists are their friends, neighbors, colleagues and volunteers who also are making discoveries every day to serve the needs of society," said Britt in a recent post featured on Taking Stock.

Britt's service to the field of reproductive physiology is exemplary, co-authoring research across multiple livestock species. He helped develop management strategies f
or livestock producers to minimize productivity losses.
He continues to have an active and constructive voice across a wide array of animal science issues. Britt wholeheartedly supports interns in Washington, as he sees the need for future animal science professionals to gain an understanding of agricultural policy-making.
"It was an honor to have an appreciation club established in my name and for it to be supported by so many businesses, colleagues and former students," said Britt. "It is important that young professionals are gaining this experience."
For more information on Britt's Appreciation Club, visit the Foundation page.
Louis J. Boyd Appreciation Club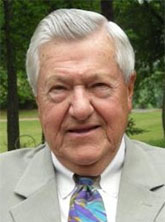 Dr. Louis J. Boyd, Former Head of University of Georgia's Department of Animal Sciences, has had a lasting impact on reproductive research. His 42 years of service to UGA earned him the honor of being inducted into the George Agricultural Hall of Fame.
Along with Dr. Hafs, Boyd coauthored Dairy Cattle Fertility and Sterility, the first of the Hoard's Dairyman books. Since its initial publication in 1976, over 400,000 copies of the book have been distributed in four different languages.
Boyd is one of only two animal scientists who have been president of both ASAS and ADSA. He is also a Fellow of both organizations.
His enthusiasm for the Science Policy Internship is evident through the work of his appreciation club.
"With increasing intense competition for [state and federal] funds, it is most important to get our science-based story across to policy makers as our elected public officials," said Boyd. "I am so keen on…the opportunity for emerging animal scientists to gain valuable experience through the Public Policy Internships."
For more information on Boyd's Appreciation Club, visit the Foundation page.
Robert G. Zimbelman Appreciation Club

Dr. Robert Zimbelman spent 12 years in Washington D.C. working to ensure true, scientific data was used to influence legislative decisions. From 1987-1999, he worked in the capitol with professional agricultural societies, and livestock commodity and research groups to provide a scientific voice on a variety of animal issues. In fact, he served as ASAS' first Executive Vice President.
"I ended up testifying on animal science issues and funding a number of times," said Zimbelman in an autobiographical essay.
Prior to working in D.C., Zimbelman worked for the Upjohn Company in Kalamazoo, Michigan. There he headed a team that developed Melengestrol Acetate (MGA), a product widely fed by cattlemen today to aid in estrus synchronization and feed efficiency.
Zimbelman's work led the way to stronger collaboration efforts between animal scientists and federal and state policymakers. He is a quintessential example of the leadership needed by agriculturalists in Washington.
"Since I served ASAS in D.C. as its first ever EVP, I recognize the importance of scientific input to legislators," said Zimbelman. "I am pleased that we now have several clubs supporting summer interns in D.C."
For more information on Zimbelman's Appreciation Club, visit the Foundation page.
— — —
Read a recent editorial about legislative action written by Drs. Hafs, Boyd and Zimbelman.