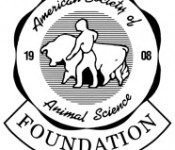 ASAS has chosen six Science Policy interns for summer 2017. Over the next several weeks, we will be introducing them to you. Please meet Rachael Buzanowski, who will be interning in the Washington D.C. office of Senator Steve Daines.
Rachael writes:
I am from Pompeys Pillar, Montana, where I grew up on my family's cattle ranch. I plan to continue being involved in the operation while also pursuing a law career with the hopes of being involved in a rural practice.
I am a junior at Kansas State University where I am majoring in Animal Science. This is my second semester at KSU. I was previously enrolled at Butler Community College in El Dorado, KS, where I received an Associate Degree in Agricultural Sciences while competing on the track and field and volleyball teams. In track I earned All- American honors three times for my performance in the pole vaulting event at the National Junior College Athletic Association National Championships.
Since transferring to K-State I have become involved in clubs and accepted a job at the Kansas State Purebred Beef Teaching Unit. These activities keep me very busy when added to my class schedule, but I have had some wonderful opportunities because of them.
I will be interning with one of Montana's senators this summer – Senator Steve Daines. I look forward to being a part of the ASAS 2017 intern group and am extremely grateful for the opportunity the organization has given me. I hope to gain some knowledge about the lawmaking process including the impact that private organizations can have on it. I know I will learn a great deal this summer and that it will have a huge impact on my future.
The ASAS Summer Science Policy Internship is supported by the Jack H. Britt Appreciation Club, the Louis J. Boyd Appreciation Club, the Barb Glenn Appreciation Club, the Harold D. Hafs Appreciation Club, and the Robert G. Zimbelman Appreciation Club.